This release presents statistics on the location of owners at the time of purchase as at 31 December 2022 based on the owner address supplied at the time of registration with Registers of Scotland (RoS).
A title is the statutory record of ownership or tenancy of a plot of land comprising the property, proprietorship, securities and burdens.
To be included in these statistics:
1. The land and property title needs to be registered in the Land Register
There were 1.89 million registered titles in the Land Register, as at 31 December 2022 an estimated address coverage of 87% in relation to properties that regularly transact.
This excludes land and property that rarely sells or may never sell, for example social housing and some large land and estates, from the total number of addresses in Scotland (held in Ordnance Survey AddressBase). The estimated number of properties that regularly transact is 2.5 million, while the total number of addresses is just short of 3 million. Please note that the volume of titles does not correlate to the volume of addresses because a title may contain more than one address.
All titles that have been transferred for a consideration since 1 April 2003 should be in the Land Register. The majority of the remainder of titles are held in the Sasines Register, a deeds-based register. The benefits of a complete Land Register are being delivered through a combination of ensuring that properties which regularly transact are on the Land Register, and that the information on the remaining titles in the Sasines Register is easily accessed via Unlocking Sasines. We are working towards including unlocking sasines data in future reports.
2. The registered legal owner has provided an address at the time of registration that is able to be classified to a geographic location
For the purposes of this report reference to "owner" also relates to tenants under a long-term commercial lease unless otherwise specified. See Definitions for more information.
The two most significant reasons for not having an identifiable owner address occur when:
ownership/ tenancy is by a Scottish or UK public body and no designation address is required, and
the supplied address is not complete or accurate enough to allow identification of a geographic location.
Through the quality assurance processes applied to the data, all titles have been allocated to a location at the country level (outwith UK, Scotland, England, Wales and Northern Ireland), but it is not always possible to disaggregate further.
The total volumes of titles where the registered owner is a Scotland or UK-wide public body, a Crown body or where the owner's address is given as a British Forces Post Office number are included in Figure 2. Individual Scottish NHS trusts and Scottish local authorities are included in the Scotland figures.
Statistics in scope
The bar chart shows the statistics that are in scope, compared with approximate total number of addresses in Scotland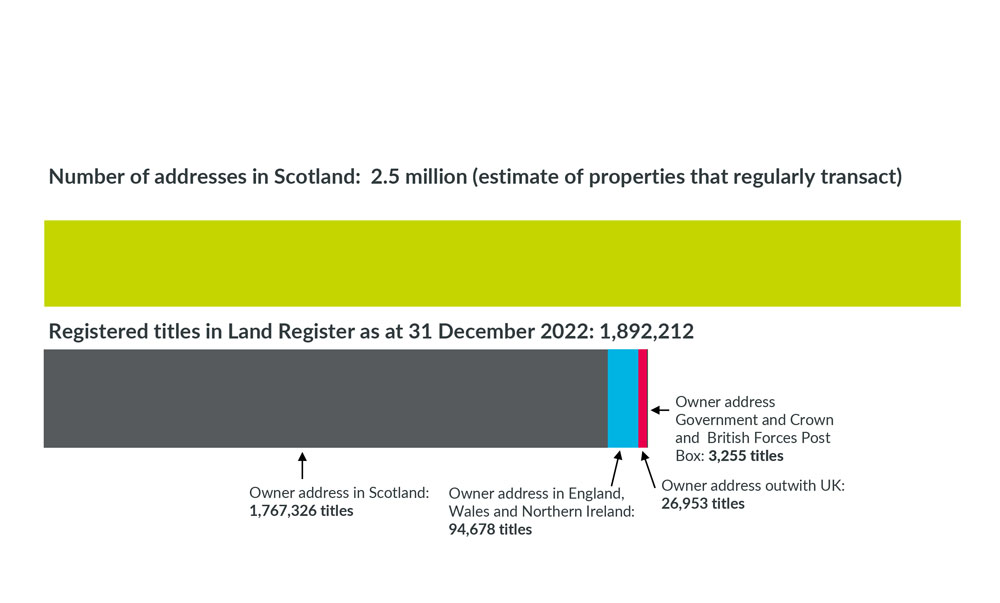 ---